Hand Warmers Unisex Size Chart for Refiber Designs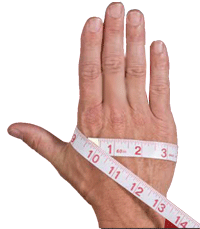 XS: 5.5 – 6.5 inches
S: 6.5 – 7.5 inches
M: 7.5 – 8.5 inches
L: 8.5 – 9.5 inches
XL: 9.5 –10.5 inches
(Measurement is the hand palm circumference at the knuckle line.  For more info, see instructions below about how to measure your size.)
*Need a smaller or larger size than is currently available?  Don't hesitate to
contact us
.
What you'll need: a soft measuring tape (or a piece of non-stretch string and a ruler.) 
Step 1) Measure your hand circumference in inches, like demonstrated in the image above.  Measurement should go all the way around your palm and 4 knuckles. 
(Use the soft measuring tape or measure with a piece of non-stretch string by holding or cutting a length that matches your hand circumference and then holding up to a ruler to get the measurement in inches.)
Step 2) Match your hand circumference measurement with the Sizing Chart above to get your size for hand warmers made by Refiber Designs.  
If your hand measurement is on the cusp of 2 different sizes consider: If you want more of a fitted style, size down.  If you want a looser or more flexible fit, size up.